All About Children Learning Center
1201 Maple Avenue
Arbutus, MD 21227
410-242-6009
**COVID UPDATE**
During these unprecedented times, to ensure the safety of our staff and children, we have implemented new rules and procedures. Every child and staff member is temperature checked at the door and asked several questions about their health. Once admitted only staff members and children are allowed into classrooms to help lessen the spread of germs. We regularly check the health of the children in our care each and every day. Our classroom sizes are smaller and we are following proper social distancing procedures in the classroom as well. Safety is our top priority.
We're All About Children!
At All About Children Learning Center our purpose is to provide the highest quality childcare and preschool education in a secure, nurturing and stimulating environment. Our most important priority is your child, and we strive to assure that your child's experience at All About Children Learning Center is educational, fun and safe.
Enrollment at All About Children Learning Center is open to children from
infant (6 Weeks) to 12 years of age.
All About Children Learning Center Mission Statement:
All About Children Learning Center is committed to creating a developmentally appropriate learning environment that allows the staff to easily facilitate a creative, integrated, age-appropriate program for the child. Our goal is to enhance the development of readiness skills, encourage a loving environment for a desire to learn and promote family involvement in the learning process. We want to be recognized leader in providing the best childcare.
Childcare is an adventure for you and your child. It is the beginning of an exciting new phase of life. For some of you, this will be your child's first adventure away from home in a group setting. To help in this period of transition, we have designed this handbook to answer some of your questions. After reading through it, please let us know if you have any questions.
Our goals at All About Children Learning Center are:

Provide a balanced program that addresses the whole child (social, emotional, physical and intellectual);

Create an environment for the children that will be a warm and friendly one that will allow them to feel free to express who they are;

Teaching staff to provide the necessary amount of interaction, monitoring of development, and individualization of planning for each child to learn;

Making sure the program uses effective grouping practices that enables each child to grow and develop to the best of his/her ability; and

Involve parents and families as partners in the education of our young children.
Every effort has been taken to assure that these goals are met, from our curriculum, our highly qualified and well trained staff, state-of-the-art equipment, and the highest standards of cleanliness to our ongoing communication with parents.
The All About Children Learning Center Philosophy:
At All About Children Learning Center we know that children feel more secure and gain more from their childcare experiences when there is a strong connection between home and school. Children are recognized as unique individuals here and we seek to stimulate growth and development through a variety of sensory experiences. Our program is designed to foster this growth by using an integrated curriculum approach that challenges the whole child while providing activities in the areas of social, emotional, physical, and intellectual development. We feel that all of these areas of development are equally important in helping each child reach his/her full potential, and in becoming aware of and appreciative of the world around him/her.
Our door is always open to you, whether it is to visit your child during the day or meet with us for a conference to discuss how your child is doing. Your comments and suggestions are always welcome, and we are here to listen to you. We believe in the family and strive to meet the needs both of the parent and child as well as foster positive family relations. All of the dedicated, caring staff at All About Children Learning Center want to make certain that your child has the very best childhood experience, and thank you for entrusting us with that responsibility and privilege.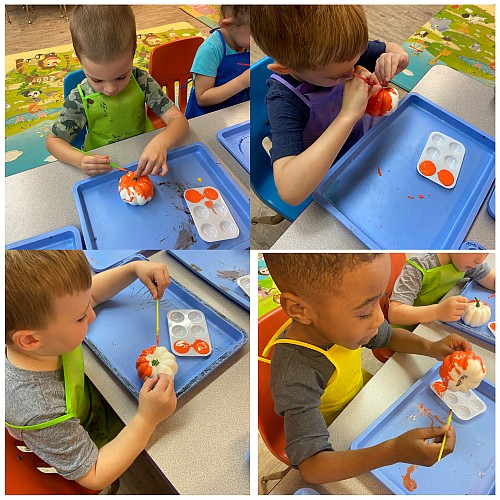 Enrollment Forms
The links below will open documents in PDF format in a new browser window.
Parent Handbook

Enrollment Packet

Individual Enrollment Documents
Guide to Regulated Child Care